CREATING A SUCCULENT ROCK GARDEN – OUR 5 ESSENTIALS
Creating a succulent rock garden fits well into the current trend of "xeriscaping" which is a method of landscaping developed for arid climates using water-wise plants and techniques. Whilst we do not currently have a water crisis on the coast, conserving water is always worthwhile. These beautiful gardens are also minimal maintenance which fits in well with our ever-increasing chaotic lifestyles, and they are very aesthetically pleasing.
If you are not afraid of a little gardening, creating a rock garden makes for a great weekend project and can be done fairly cost-effectively. Here we offer our 5 essential to-do items for creating a succulent rock garden.
1. CHOOSE YOUR AREA WISELY
If you already have a naturally-formed rocky outcrop in your garden, this will be an ideal starting ground. If not , then a sloped area or a bank in your garden is a perfect spot .Rocks provide a great aesthetic appeal and offer a microclimate of their own to the plants, retaining the heat stored during the day, and dispersing it at night. A natural rocky outcrop will also help your garden to blend seamlessly into its environment.
Remember also that succulents fare well in full sun and need well drained soil. A north-facing sloped area is thus a perfect setting for the best success. The rocks that you will use on the slope will help curb erosion.
2. POSITION ROCKS & STONES WISELY
When adding rocks to the environment, remember that rocks have a 'face' or a grain and placement is thus important. Try to emulate how rocks are positioned in nature. Sink larger rocks slightly into the ground to avoid movement and achieve a more natural effect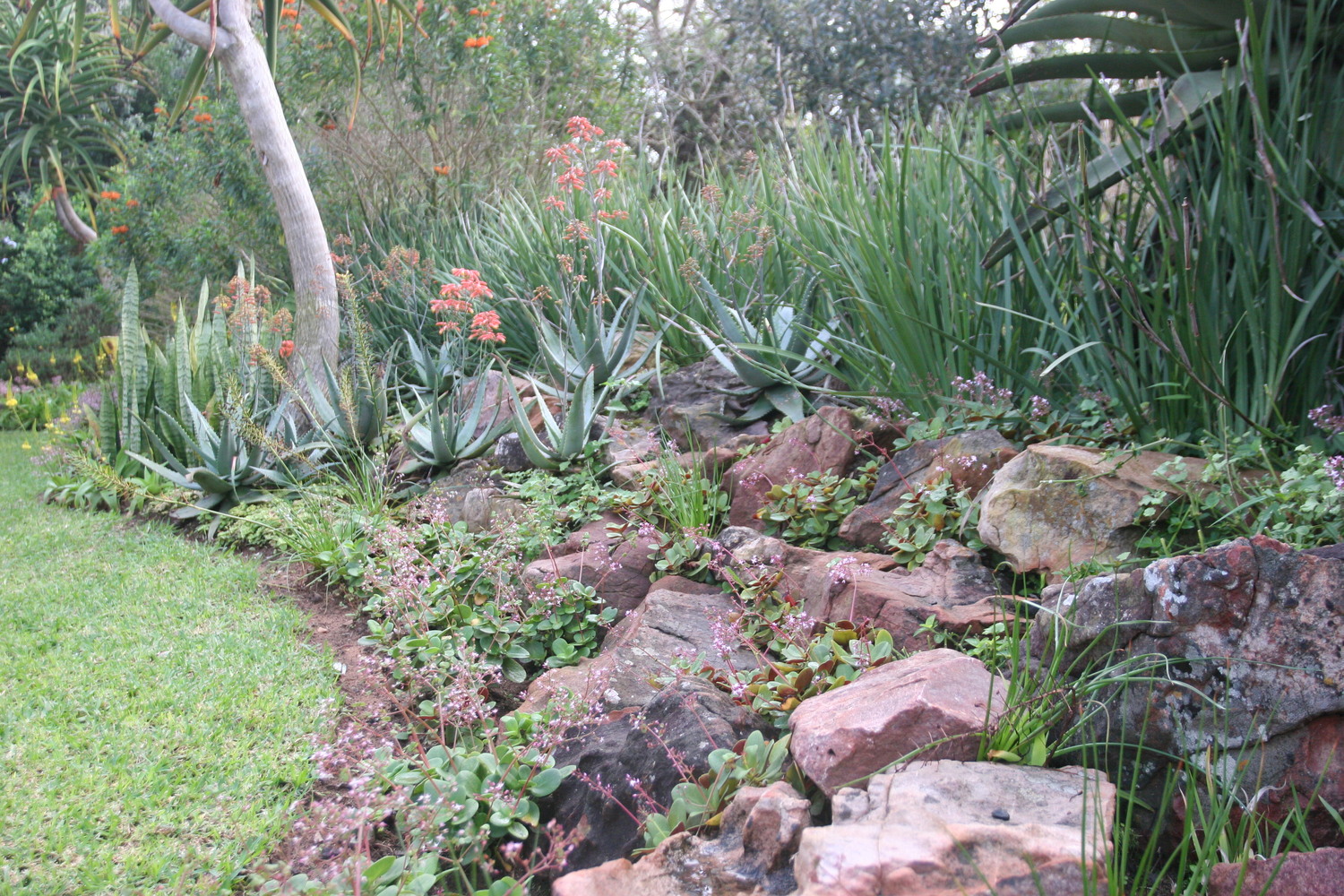 3. USE THE RIGHT SOIL
When creating a succulent rock garden, be mindful that the soil in your garden may not be optimal. A well-drained soil is what one needs to plant succulents in. If your soil is not well drained then be sure to add soil which has large-particles, like coarse river sand, to your existing soil to correct the drainage. If you are not sure what type of soil you have The Garden and Home magazine provides a handy home-test solution that will help you
4. CHOOSE THE RIGHT SUCCULENTS
In South Africa you can have a lot of fun creating your rock garden with our wide range of local succulents. We would use plants species like the Cotyledon, Aloes, Euphorbia, Portulacaria, Kalanchoe and Crassula. (Remember, a cactus is not a local succulent!).
Plant succulents strategically close around the rocks (without overcrowding) as the microclimate created around the rocks will help them to thrive.
You can now order these plants directly from us online and we deliver free to the Dolphin Coast area. Take your pic from our Top 10 bestsellers from the comfort of your couch.
5. OTHER DECORATIVE FEATURES
A rock garden lends itself to many other decorative features. You could dig into your old shed and pull out rusty equipment such as ploughs, wagon wheels, old watering cans, and even chairs or benches. These make great trendy decorative features for any gardens when placed strategically.
Other decorative materials that match very well with succulent rock gardens are Crusher stone or pink quartz .These can add an aesthetic element of colour contrast to your garden and can even be used to create walkways through your rock succulent garden. Make sure you place a layer of bidum down below these smaller rocks and stones to avoid them from disappearing into the soil forever.
Water-features lend themselves well to sloped gardens and can also be used in your rock garden to create a calm and tranquil effect, but be sure that the water does not leak into the soil as succulent gardens like well-drained soils with very little to no irrigation.
If the thought of creating a succulent rock garden on your own is too daunting, feel free to contact us for a site visit and we would be happy to quote.